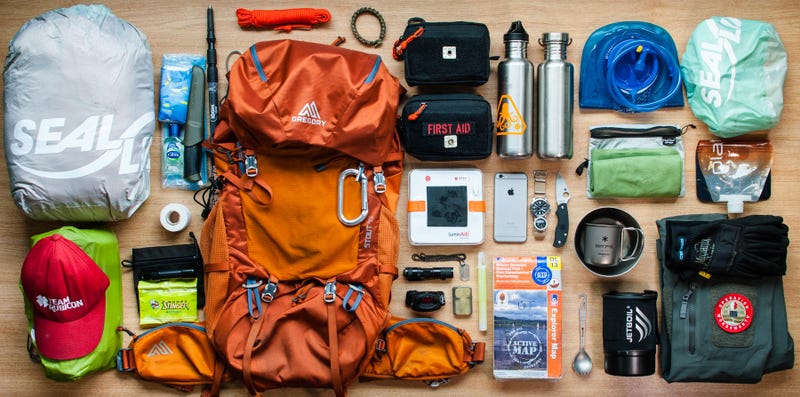 PACK CONTENTS:

SealLine Blocker Dry Sack 20L with Vango Latitude 200 Sleeping Bag

Bush Dump Bag – tissues, Mora Knife and antibac gel
Side pocket of pack: blister tape, ibuprofen and Stinger energy bites
Gregory Stout 45 Pack with Petzl Carabiner and HiGear walking stick
Prometheus Design Werx Stash Pouch (plus Ru Marker) containing a power bank and cable, a few medical bits, vaseline, ClimbOn!
Stash Pouch (plus Ru Marker) containing a few bandages, Trauma shears, Israeli Bandage/tourniquet and a few other FIRST aid bits
Other side pocket of pack: engraved silver dog tags with key dates my wife had made for me, old knackered AA FOURSEVENS Quark torch, Petzl Headlamp, Zippo Lighter (1941 Replica)
Seiko watch with PDW Expedition Watch Band Compass
Weatherproof map (thanks Tony D!)
Camelbak 2.0LPack Towl – Large
Snow Peak titanium bowl and mug
SealLine Blocker Dry Sack 10L with all our rations
Triple Aught Design Stealth LT with Team Rubicon Ops Patch –Wordsworth


Not visible:
Nikon D3000 with 35mm Prime Lens
Exped Dry Sack for camera


What I wore:
Sprayway Waterproof Trousers (thanks Freddie!)


Other:
Freddie carried the tent which was a Vango Latitude 2, that he'd used on a World Challenge. They don't seem to make this model any more but it's similar to the Hydra 200.